With complex electronics part of almost all new consumer products, especially those with wireless capability, it is becoming more difficult to ensure New Product Introduction runs smoothly and produces a High Reliability product.
Most companies struggle to meet new product first shipment deadlines and focus attention on a production pilot run to weed out defects and potential issues that need to be resolved before volume production begins. As pilot production is often performed with the best sub-assemblies and components and built on a line with experienced people, many issues are simply not seen or induced during assembly compared to free flowing mass production.
We cannot continue to use the excuse for high defect rates as 'It's a New Product!!', and without improvement to NPI, companies will continue to THROW AWAY profit, perhaps as much as $10 million per year in a High Volume Environment.
• Without NPI Metrics, people and teams do NOT work cohesively and do NOT achieve best possible performance
• Metrics bring Teams Together and drive Continual Improvement
• NPI Metrics allow Management to Focus on areas requiring most support and improvement, also it makes engineers jobs more defined and more structured
It is clear that many mass production consumer devices are failing at higher rates than ever before, hence to reverse this situation is all about preparation and control far earlier in the development cycle.
Smartphone.
Average Warranty Claims & Accrual Rates
(as a % of product sales, 2003-2015)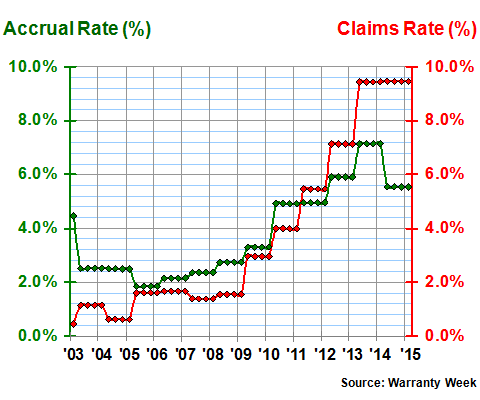 Short design cycles mean high risk unless controls and measurements are in place early in development cycle to provide controls that will drive high reliability.
Programme Managers are under significant risk when they often need to make subjective assessments without real data which will reflect potential warranty failure levels.
The answer is an NPI Scoring approach which has an inbult memory of previous tests / assessments in the score that reflects the true capability of the product to have low Early Life Warranty failure rates.
How do we build such a matrix? The answer is to define all the key metrics which reflect the products ability to fulfil low Early Life failure rate targets and are monitored at various stages in the development cycle.
The key measurements for any complex product whether electronic, electro mechanical or mechanical will include all or most of following measurements / metrics;
• % Design Quality Maturity measurement
• DFM (Design for Manufacture) Score
• DFT (Design for Test) Score
• First Pass Yield performance
• Process Capability Measurement
• Early Life Reliability Test results
• Reliability Demonstration Test results
• Factory level Outgoing QA test results
Weighted scores are allocated to each metric dependent on its ranking and ability to influence Early Life Warranty Failure rates. The beauty of this approach is the 'memory' the model retains in the product NPI score, hence all focus is NOT on pilot production results. This is vitally important as Design Quality Maturity, DFM, DFT scores will greatly influence the product reliability and ease of manufacture to avoid early life assembly and test escapes in volume production.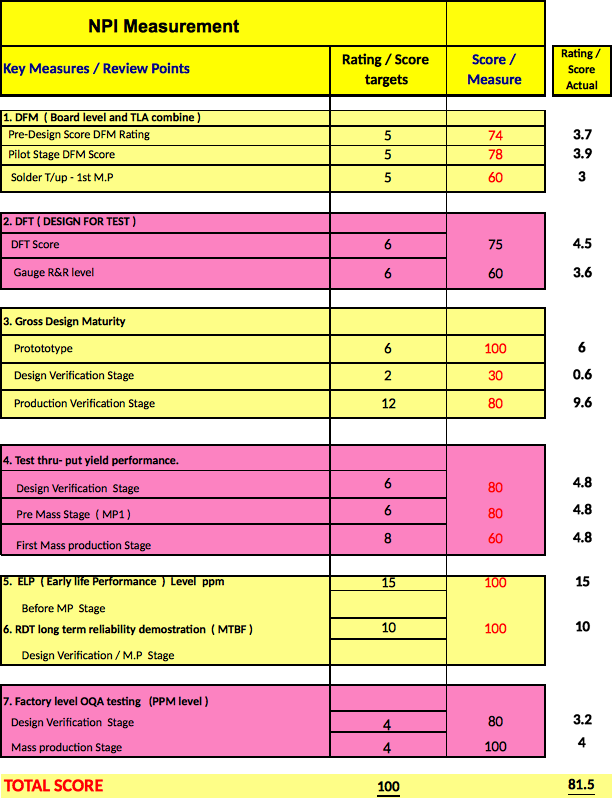 The Score / Measure column is made up from actual scores (eg – DFM, DFT scores) plus scores that come from the product's performance relative to pre-defined aggressive targets (yield levels, Quality test ppm, etc) set for appropriate stages in the development cycle.
These Scores / Measures are then multiplied by the weighted scores to provide the overall Actual Score which are cumulated to provide the total NPI score.
As this score reflects all the key Design Quality and Manufacturability performance of the new product, it becomes simple to drive improvement and benchmark with different designs. Also this score will correlate well with Early Life Warranty return rates and once correlation completed with several models can then be used as New Product Early Life Warranty fail rate predictor.
Such a model removes all of the subjective arguments over the release into Mass Production and provides all management levels with a generic measure to drive improvement short and long term.
If you wish to find out more, contact Martin Shaw of Reliability solutions at reliabilitysolutions@yahoo.co.uk or call: 07967 144 097