Reliability Solutions Seminars continue to reach many more engineers in a wide range of companies and 2019 will be no different. The latest agenda truly addresses the issues engineers face with predicting Reliability with less budget to do so and less time to complete. NONE of the models and solutions delivered by Reliability Solutions are based on old traditional standards which as all Reliability engineers know provide limited value add.
Over the last 25 yrs , Martin Shaw , MD of Reliability Solutions has been developing and implementing unique solutions for each client and making the solution fit their needs, traditional standards simply cannot achieve this. The latest 2019 agenda brings all of this knowledge into an intensive 2 day seminar, rich in knowledge and case studies to show clearly how engineers need to think and the models they need to be successful.
The major issues facing engineers in today's competitive world are all covered in the latest agenda;
Sample Size challenge for prediction high reliability in shortest durations
Applying Sequential Stress Testing to greatly increase defect detection capability
Understanding how to drive reliability below full assembly product level to ensure latent defects can be stimulated at sub-assembly level
Using the correct measurements in RD stage to maximise design reliability
Focusing on Early Life reliability to reduce warranty costs and ensure products can be qualified in shortest periods
The feedback over 2018 has been excellent, some examples below; (click the image to view in full size)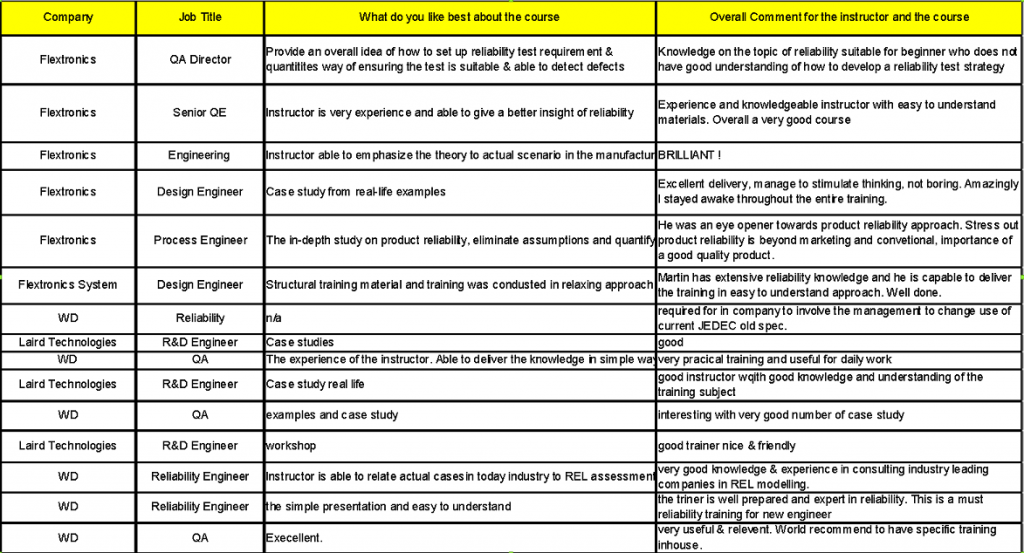 We hope to bring similar satisfaction experiences to many more engineers in 2019. We offer the 2 day seminars in various regions of China and UK at present and are very willing to bring directly to individual companies in any part of the world at a very attractive cost.