2019 will be an exciting year for Energy 1 and Reliability Solutions as they roll out the new 2019 agenda packed with case studies and modelling solutions to solve all problems engineers face with performing reliability Testing and MINIMISING risk at new product introduction stage.
New presentation modules on Statistical approaches and how to maximise the effects of Reliability testing with small sample sizes are included plus focus on the best way to develop Semiconductor Package Reliability Testing using standard JEDEC testing methods in a very different manner to maximise defect detection capability rather than simply perform tests and tick the boxes!
If you really want to improve your product or device reliability, you simply cannot afford to miss this training opportunity already shared with several hundred engineers and managers throughout Asia in the last 3 years
Why attend the 2019 seminar ?
Understand how to set up most effective and lowest cost reliability test programmes in the design stage

Use the Reliability Solutions XL models that you can introduce in your own company approach to Reliability Testing and provide immediate improvement

Learn how to evaluate benefits of Early Life reliability stress testing which drives true customer satisfaction improvement

Understand the key statistics in Reliability Testing and how to define appropriate test sample sizes without over spending on the budget

Realise the benefits of sequential stress testing and how to develop test profiles which find 'real' defects in a simpler , measurable manner

Understanding why full product level reliability test and assessment simply does not work and is not cost efficient

Realise reasons why following old traditional test standards are no longer useful with modern technology and the changes you need to make to achieve high reliability
Recent Feedback on the 2019 agenda which was run in Penang during Oct 2018 cleraly shows it will be a big seller in 2019; (click image to enlarge)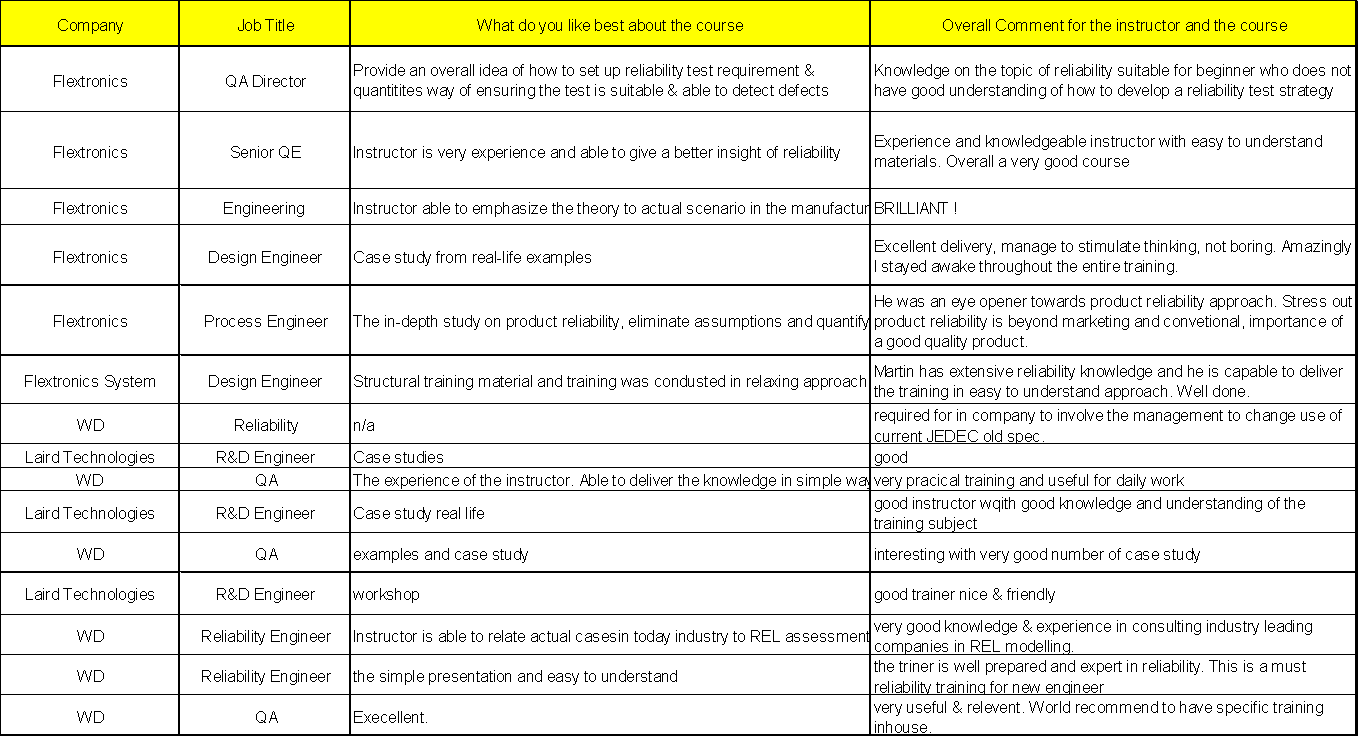 If you wish to attend, look out for our web announcements and email / linked-in correspondence throughout 2019.
Our next series of seminars in China are on the dates below at locations shown;
15/16 April – Suzhou
18/19 April – Shenzhen
22/23 April – Chengdu
We look forward to seeing you in 2019.